COURTSIDE: ALESSANDRA CHILLEMI
Today we're pleased to interview Alessandra Chillemi. A recent FILA sponsored athlete, the Messina-born b-girl chats with us, among others, about her training for Paris 2024, the debut of breakdance at the Olympic Games.
Speaking about the FILA universe means to have one's eyes constantly looking towards the future, with the ability to catch those figures able to embody its values in the present. This is something that today we try to do with a special guest, Alessandra Chillemi.
Born in 1999 in Messina, in Southern Italy, Alessandra is one of the most famous b-girls in Italy and abroad. By the beginning of this year, she chose FILA for new looks to show up on the dancefloor. Together we've chatted about roots, about values related to dance, and about the challenges that tomorrow brings, just like her participation in Paris 2024, the first edition of the Olympic Games admitting breakdance in the competition.
Hi Alessandra, welcome to our Blog and in the FILA family!
Were you already fond of the syle of the Biella-born brand?
ALESSANDRA CHILLEMI: I already knew about FILA, a prestigious brand related to several sports; I've always appreciated its Italian roots. The chance to get to know it closer and to test its products for my performances satisfied me, both from a technical and a styling point of view.
When and how did your passion for breakdance come to light?
AC: I started at the age of six, after observing my neighbours dance. I found myself immediately captivated by what they did. We were in a free zone (a Navy base), so I could stroll all by myself: I soon found out when and where they gathered to dance, in order to be there and did exactly the same things. Before that, I used to do ballet, but I soon realized that wasn't me. Now I dance in the same group of those two guys (the Marittimafunk Crew); I told them the whole story only after a long time.
Your debut as a b-girl is in the city of Messina, with the Marittimafunk crew. Do you think that the Sicilian energy influenced your approach to breaking?
AC: Absolutely. Marittimafunk is my second family, I approached the crew when I was just eight years old (the only young girl in the gang), I was raised as a younger sister. We used to dance at a railway station, not in an ordinary ballroom: this has shaped my attitude, you can see it when I dance and when I compete.
Which values did breakdance teach you?
AC: The main values of breaking (and, more generally, of hip-hop culture) are sharing (even if people compete, the aim is to help each other), respect, loyalty (after every battle people hug, go to eat together, become friends).
FILA has always sponsored female athletes and believed in women. Is it a good moment for girls in breakdance?
AC: Yes, it's an inspiring moment. When I started dancing women (or 'b-girls', according to our slang) were few; now they're definitely more and we are as respected as 'b-boys' are.
One thing you often quote is the definition of 'athlete-artist'. What does it mean to you?
AC: I see it as the 'body-and-soul' relationship. Breaking is now an Olympic discipline and is considered as a sport, but it is also a wonderful form of art. The expression that defines us the most is 'we train like athletes, we dance like artists': it is important to be fit and to be technically able, but it's also important to keep one's own identity, to reach the audience's heart and express beauty through dance moves.
In 2024 you will take part in the 33rd edition of the Olympic Games, the first one in history admitting breakdance in the competition. How are training yourself and what do you expect from this important moment in your professional path?
AC: I'm 1000% focused on this. I'm working hard to get better from all the possible points of view (physically, mentally, technically etc.). I'm trying to enjoy this path without expecting too much. My goal is to get to Paris 2024 to represent and promote our wonderful culture and the strong values in it to the widest audience. I want to bring freshness in a different context and, of course, win a medal too.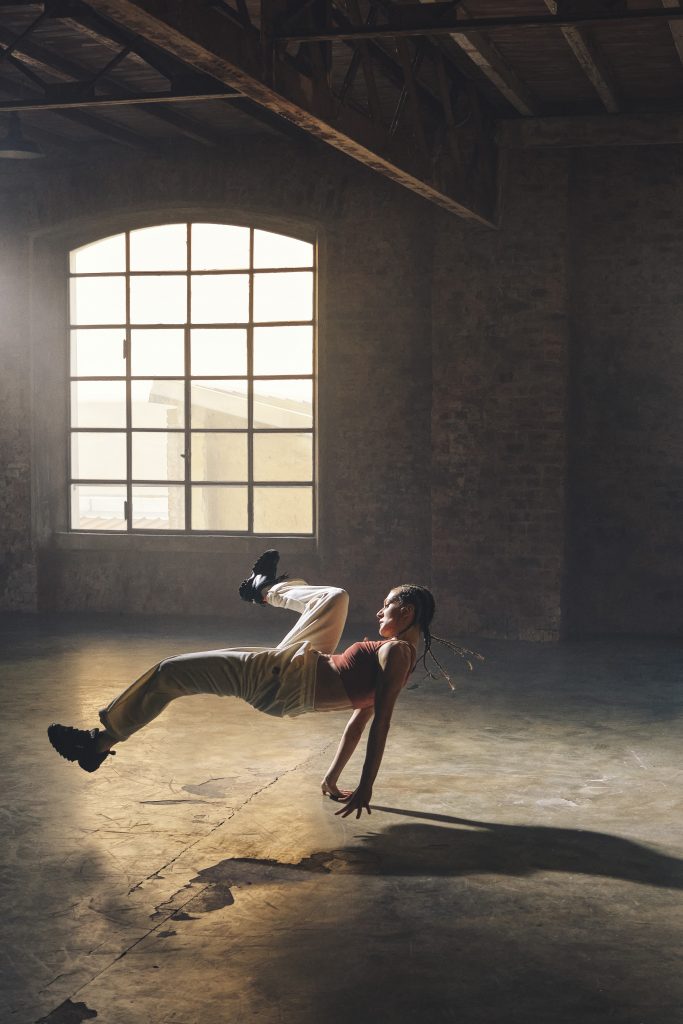 Back to the articles!
Leave a Reply
Your feedback is valuable for us. Your email will not be published.