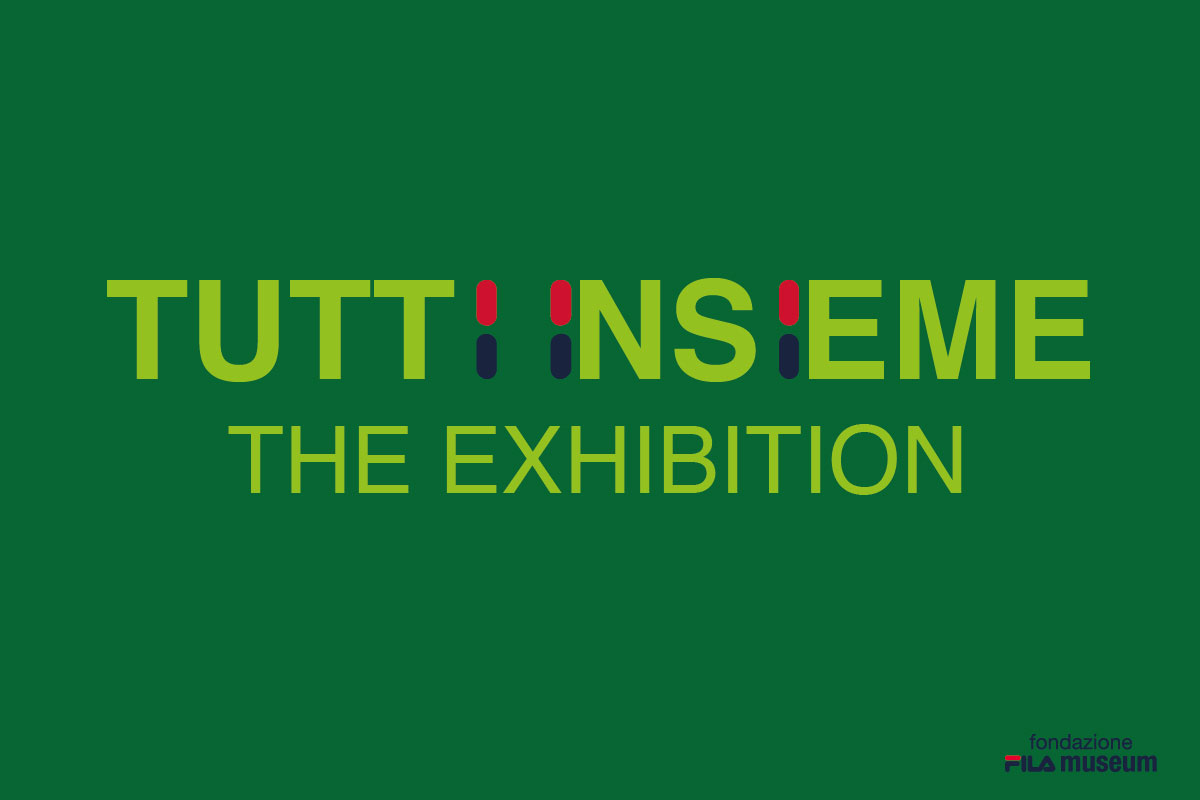 TUTT1 1NS1EME – THE EXHIBITION
Launched at the beginning of 2022 on the occasion of FILA's 111th anniversary, TUTT1 1NS1EME ('All Together') is the contest that Fondazione FILA Museum dedicated to sustainability, approached both from a social and an environmental point of view. This call for action gathered the researches of 96 artists and collectives from all over Italy: on May 20th, 2022, a Jury honored six of them:
1st place Sarah Aglì, Ecological Footprint
2nd place Anna Maria Landolfi, Eco Printing
3rd place Fabiola Sangineto, City of The Future
Honorable mention to the youngest participant Martino Degani, I pappagalli della sostenibilità
School mention ASD Bi Roller Pattinaggio Biella, La mobilità attiva
Gen Z Award Sara Garino e Aurora Lanza, Light Out
In conjunction with Museimpresa's 21st Business Culture Week, Fondazione FILA Museum has hosted, from 7 to 21 November, 2022, TUTT1 1NS1EME: THE EXHIBITION, a special project involving the six selected works. In a strong dialogue with the museum's rooms, they traced a crossdisciplinary, transgenerational narration: spanning from videos to graphics, from installation art to ecoprinting, they have been able to add a significant piece to FILA history.
The Winning Works
1° "Ecological Footprint"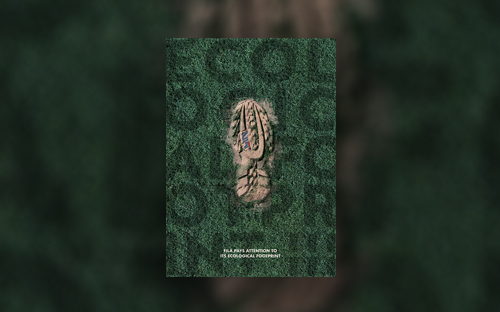 Sarah Aglì
2022
Digital illustration
50x70cm
Courtesy the artist
Ecological Footprint embodies the impact that human actions have on the planet. Using a FILA Disruptor sneaker, a camera and Photoshop, the final, semirealistic result highlights the company's commitment to sustainability. The 'FILA pays attention to its ecological footprint' payoff expresses clearly what is already present in the picture, and the English language aims to get in touch with an international audience.
2° "Eco Printing"
Anna Maria Landolfi
2022
Botanical Printing on fabric
Variable size
Courtesy the artist
Ecoprinting is an ecological printing and dying technique, involving elements offered by nature: leaves, roots, flowers and barks are printed without using chemical substances. Fabrics are commonly obtained from plants (cotton, hemp) or animals (wool, silk). Nature presents itself and gives us emotions, in a process in which we are just a bridge
3° "FILA – City Of The Future"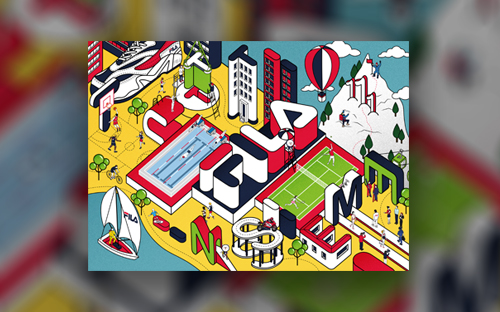 Fabiola Sangineto
2022
Digital illustration
50x70cm
Courtesy the artist
In the digital illustration FILA – City Of The Future, the axonometric space is defined by the letters that compose the FILA and TUTTI INSIEME ('all together') words. In the city we can see some of the athletes who made the brand's history, from sailor Giovanni Soldini to tennis players Evonne Goolagong and Adriano Panatta, up to mountaineer Reinhold Messner. It's a visual storytelling of the brand, celebrating an innovative spirit, that continues to evolve over time.
Special mention

"I pappagalli della sostenibilità"
Martino Degani
2022
Installation, mixed media
Variable size
Courtesy the artist
With the presentation of a group of fun, colorful parrots – birds able to recreate human phonation and reminding of childhood – this work speaks of the urgency of sustainability. This has to be a complete process, related to food, clothing, housing. Three main topics featured in the work and distinctive of the three UNESCO creative cities in Piedmont: Alba (gastronomy), Biella (textile crafts) and Torino (design).
Special mention

"La mobilità attiva"
ASD Bi Roller Pattinaggio Biella
2022
Video (Directed by Aldo Rocchetti)
2'44″"
Courtesy the artist
The project is a concrete, possible example of 'active mobility', sustainable as 'the condition of development able to guarantee the fulfillment of the needs of the present generation, without compromising future generations' possibilities to achieve theirs'. The video preconizes a process of awareness that, starting from Biella, could lead to changes in the national traffic code, for example with skates recognized as tools of city transport.
Special mention

"Light Out"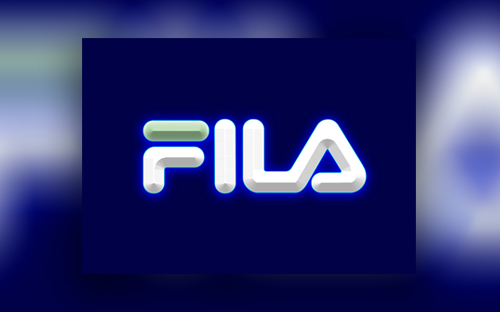 Sara Garino e Aurora Lanza
2022
Installation, mixed media
Variable size
Courtesy the artist
Our planet is becoming fragile day by day, both from an ecologic and a social point of view: a process of awareness is necessary. Starting from this notion we have developed a creative work that originates from FILA's characterizing elements: presenting green instead of the red color has been our first moment of reflection on the ecologic topic. The universal recycling symbol represents the concepts of sustainability and equality – both environmental and social – in the best possible way.