Reinhold Messner, a gentle conquerer
If tennis players win the competition with standing ovations by the audience, rock climbers conquer the peak in the silence of nature, often in solitude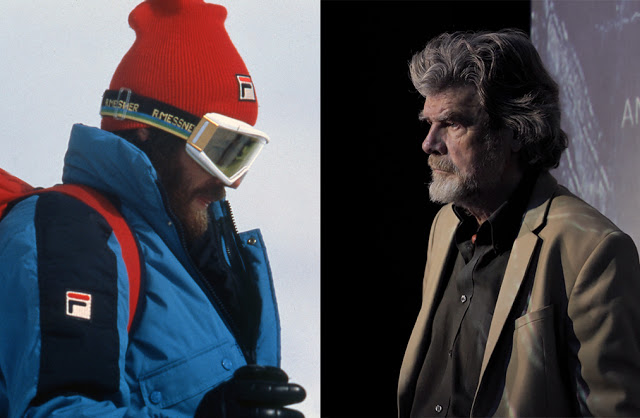 Maybe it was right this intimate fact to inspire Doctor Enrico Frachey's passion for mountains: in 1976 FILA launched a new line specifically dedicated to it, White Rock. Its innovative strength was clear and represented by the iconic 'sailcloth' blue jacket: tailored with the same material used to realise boat sails, it made history for its side gusset, that made movements easier and somehow shaped the desire to embrace the wind.
Frachey found a perfect testimonial in Reinhold Messner (born in Bressanone, Italy, in 1944), the man who climbed Mount Everest without supplementary oxygen on May 8th, 1978. He accomplished it along with Peter Habeler, and then did it again, on August 20th, 1980, on his own. By analyzing the athlete's feats, you have the impression that the effort is secondary to a more intimate desire to renew a secret path with nature.
That's why Messner invented a very personal style, that reduced the use of external equipments in an era of technological innovations: an act of respect towards the mountain. Reinhold Messner's offbeat soul is a font of inspiration even nowadays: FILA's FW 2020 collection is enriched by peaks and mountain silhouettes with pure, light blue skies in the background. "Flags on the mountains I don't leave: on the tops I don't leave anything but footsteps, that will soon be deleted".