Meet the designer: Pierluigi Rolando – 9
In 1976 FILA is protagonist of a series of events defining an era.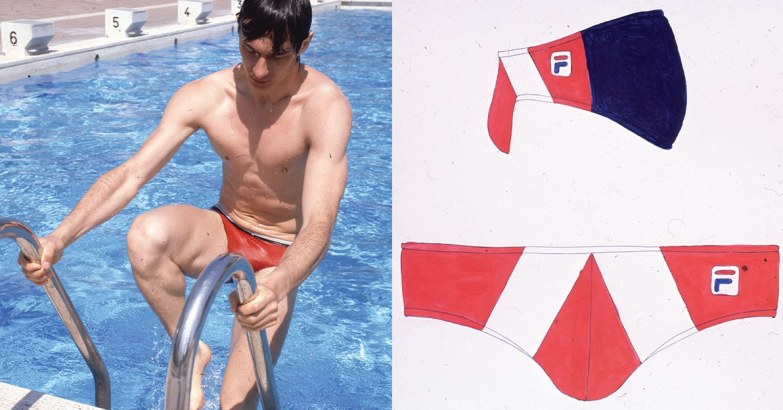 The first is related to December 18th of that year, when Paolo Bertolucci and Adriano Panatta took over the Davis Cup in Santiago, Chile, in a final match in which they defeated none other than the Chilean team. Such feat made history for the Italian players' choice to wear red polo shirts for the first two sets, as a sign of protest dictator Augusto Pinochet: the ensuing debate led FILA to a global attention, both as a sporty and social symbol.
In the same year Pierluigi Rolando designed the brand's third historical line: AQUA TIME. The project, organized by an even more competitive Enrico Frachey, was about swimsuits for women and men of all ages, and most of all another challenge to the rules. As the designer himself wrote, the garments had to reflect – in terms of shapes and style – the features of of a discipiline that is unique in representing the human body's fluidity.
Rolando worked on a new type of lycra nicknamed 'pelle d'uovo' (Italian; lit. 'egg skin'), thick at the point that athletes almost didn't feel they wore it. The graphics he designed were representative those times' minimalism, predicting the hedonism typical of the 80s. His muse was contemporary art once again: the thin lines characterizing the very first swimsuits adopted the grammar of Lucio Fontana's Concetti spaziali, the works that challenged the 20th century by cutting the canvas's surface, revealing a whole world surrounding the object of art. Such operation was also about the realization of accessories, proper photo shootings, technological tests: in order to develop the towel's sponge, for example, Rolando's team made long researches before obtaining a strong material.
But AQUA TIME's real change was a conceptual one: at the dawn of the Eighties, the human body revealed a new appeal, that was both about being sporty and seductive. A weapon claiming attention on the beach, directing gaze and desire.