WONNIE IN GIRO: BI-S – THE REPORT
Our trekking day in Strambino with Ciccio Graziani and Andrea Lucchetta was a huge success. Here's the report from last Saturday, September 17.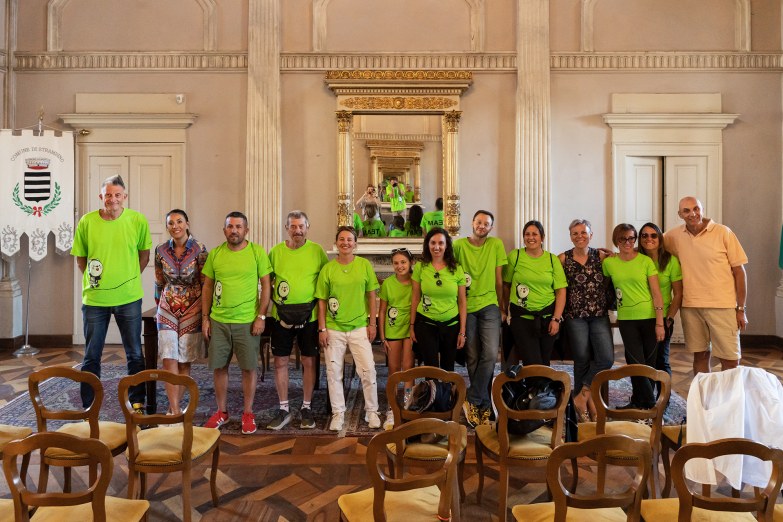 The sun on Strambino, last September 17, Saturday, was warm, intense, with the energy of a neverending Summer. The Canavese town, with its vineyards and the variety of its historic architectures, was the perfect location to host Bi-S, the second edition of the Wonnie in Giro itinerant event. Just like in 2021, our event devoted to outdoor activities with the company of our dearest ones, found the key of its success in human participation.
Like the 250 people who came by, first of all: the Strambino community responded with enthusiasm, acting like a proactive audience since the early morning. By sharing grapefuits in the vineyards or offering a break after the walk – like the one organized by Avis – the local people have been able to demonstrate natural generosity in more than an occasion. After all, this is what Mayores Sonia Cambursano, who fiercely asked for the event to be set up in her town, already told us. Thanks to her support Bi-S was also made of more thoughtful moments – like, for example, the presentation of a renewed red bench, a statement against all physical and psychologic violence towards women.
Aren't we missing something? Yes, we are! This year's success of Wonnie in Giro is also due to the presence and the commitment of Fondazione FILA's Ambassadors, ex soccer player Francesco 'Ciccio' Graziani and ex volleyball player Andrea 'Lucky' Lucchetta. The two have led our morning walk with their peculiar verve, signing autographs for all those who asked for it. The end of Bi-S was right an exclusive double interview inside the town hall's meeting room: a rare occasion to see them dealing with a passionate, honest Q&A. 'I take a lot of time to observe Andrea, I enjoy figuring out his behaviors: he's a pro with kids! He's such a human person, a fellow traveler I'd recommend to everyone' Ciccio confesses. 'Personally, I appreciate the ones who always give their best. Ciccio is n. 1 in this sense, he gives all he's got in order to take out the best from the others. He's honest, outspoken, true to himself' Andrea replies. So, this is Bi-S: see you next year!
Back to the articles!
Leave a Reply
Your feedback is valuable for us. Your email will not be published.