LABELS: WE LOVE BEACHWEAR!
In Summertime, our blog event devoted to the secrets of the FILA clothes becomes as light as an afternoon by the poolside: here's a throwback to discover the origins of beachwear.
According to American author and artist Gideon Bosker, fashion is a language in which swimsuits are similar to telegrams – succinct and able to catch one's attention in a small place.
Speaking about beachwear, however, also means to take back history and the social changes it keeps. The first examples of swimsuits appear in the first public baths of ancient Greece, often attended by athletes that needed to shower before and after competitions. The natural evolution of this context were therapeutic thermal baths, brought to Northern Europe by settlers from America. During the Victorian era of the 19th century, women approached beaches wearing mises that combined leggins, long johns, even covering corsets.
Actually, the evolution of beachwear soon became a natural liberation of the female body: during the 1920s, after the first female suffrage, the US welcomed a new ideal of woman that, along with the right to vote and work, claimed a different aesthetic. In this era swimsuits became skimpy, two-piece, but arms and thighs were still covered. It is curious to notice that the situation was very different in Europe, where artists and designers such as Sonia Delaunay and Jean Patou, who were familiar with avant-garde movements, were designing highly provocative models (even if a little expensive).
The Second World War, as one would expect, changed everything. In the US, during the 1940s, such hard times contrasted with a general desire of carelessness, that we can see in the films, the records and the suits of this period, evoking Hollywood pin-ups. Swimsuits began having curve lines and paddings; moreover, they were able to make hips and shoulders look thinner.
The 1950s were also characterized by the launch of the first bikinis (the name derived by the homonymous atoll from Marshall Islands), the two-piece swimsuits that would conquer the whole world during the following decade. The counterculture of the 60s, in fact, saw bodies getting naked and showing off themselves; the exposure of skin was an open request for attention, not only from an aesthetic point of view.
This narration takes us back to FILA history: 1976 was the year of the launch of the AQUA TIME swimsuits line. Characterized by a new type of patented LYCRA (named Pelle d'uovo, 'egg skin', for its being thick and elastic), it was made of both female and male designs. Most importantly, it had a catchy, sensual appeal – the witness of an aesthetic that would explode in the 1980s.
In the history of the Italian brand, AQUA TIME plays a fresh, laid-back role, highlighted by testimonials such as Danish actress Brigitte Nielsen and American diver and activist Greg Louganis.
Back to the articles!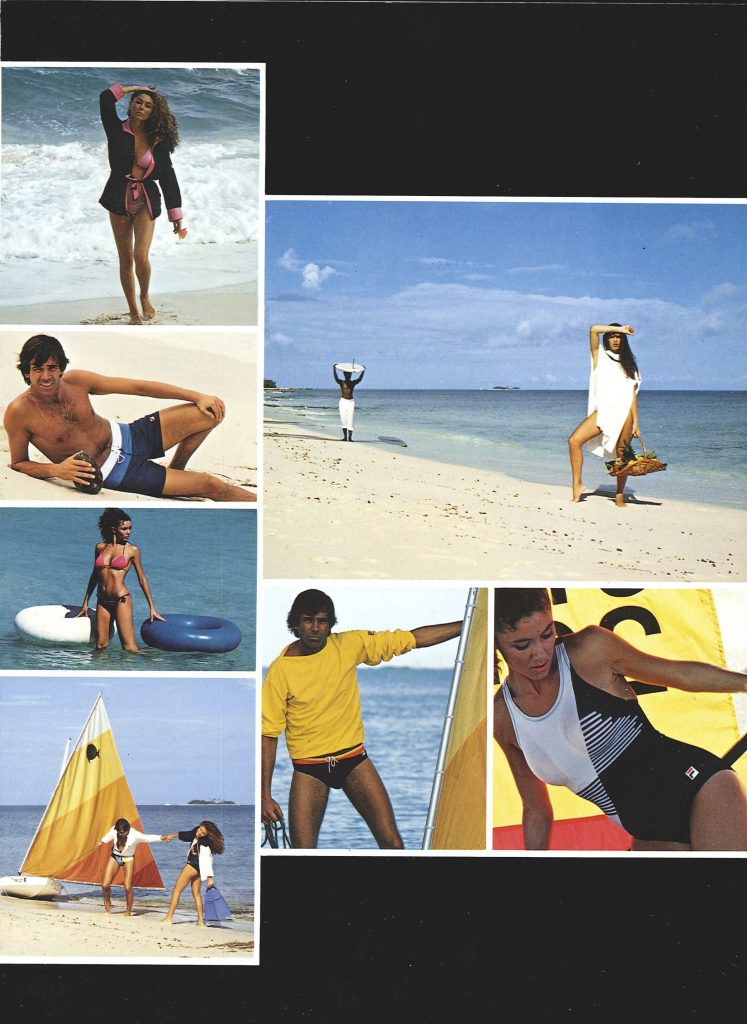 Leave a Reply
Your feedback is valuable for us. Your email will not be published.