LABELS: DENIM
Our blog event devoted to FILA textiles is back with denim: from its working origins to the recognition on fashion runways, here's its story.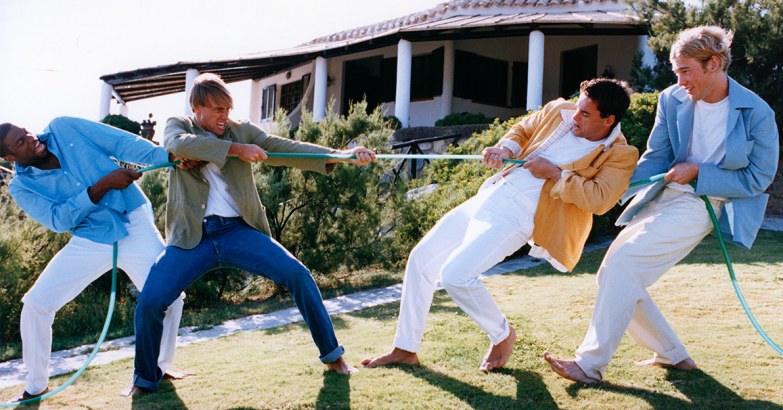 Mary Quant defined them 'the greatest invention of all times', and we must really trust the inventor of the mini skirt.
It's hard to imagine our life without jeans trousers: thanks to their practicality, their persistence and their versatility, they've been able to shape decades of style and pop culture, emerging as a unique fashion tool. What's the story behind them?
Denim fabric was born in France at the end of the 19th century: it was cotton twill, characterized by transversal motifs. Its 'hometown' is Nîmes (the word denim comes from French expression 'de Nîmes'), but the real change was in 1860 circa, when producers chose Genoa as reference port for the American market. The very first denim trousers were made right in Liguria, while in Nevada, in 1873, American tailor Jacob W. Davis reinforced a similar pair of trousers' seams with copper, designing an almost undestroyable working item. Davis joined merchant Levi Strauss to create a supply chain in San Francisco: in a very short time the two of them received tons of requests from workers from all America, and after the official patent the production became huge.
The transition from the working realm to object of desire was by the end of the last century, again the United States, in Hollywood: a new generation of actresses and actors started to wear denim trousers to please new, different audiences. John Wayne and Gary Cooper redefined the western movie imaginery, Carole Lombard and Marilyn Monroe soon became new icons of emancipation, Marlon Brando and Jamed Dean used jeans to embody archetypes of rebellion.
At last, fashion. After interpreting counterculture between the Sixties and the Seventies, in 1976 jeans appeared on worldwide fashion runways, adding to their natural practicality a new seductive allure. FILA was involved by this mood too, and in 1998 the F-Line collection presented fresh, tailored-like denim creations. Once again the brand from Biella was able to rewrite its DNA codes, inspired by a type of fabric that revolutioned style in more than an era.
Back to the articles!
Leave a Reply
Your feedback is valuable for us. Your email will not be published.