Courtside: Sophie Bourkab and Stefano Baù
Not only sport: Bi-O, our event devoted to outdoor fitness that will take place in Biella next 24 and 25 September, will also be enhanced by a special cultural programme. It will feature, among others, Sophie Bourkab, art therapist, and Stefano Baù, counselor, videomaker and photographer, RPA operator (drones).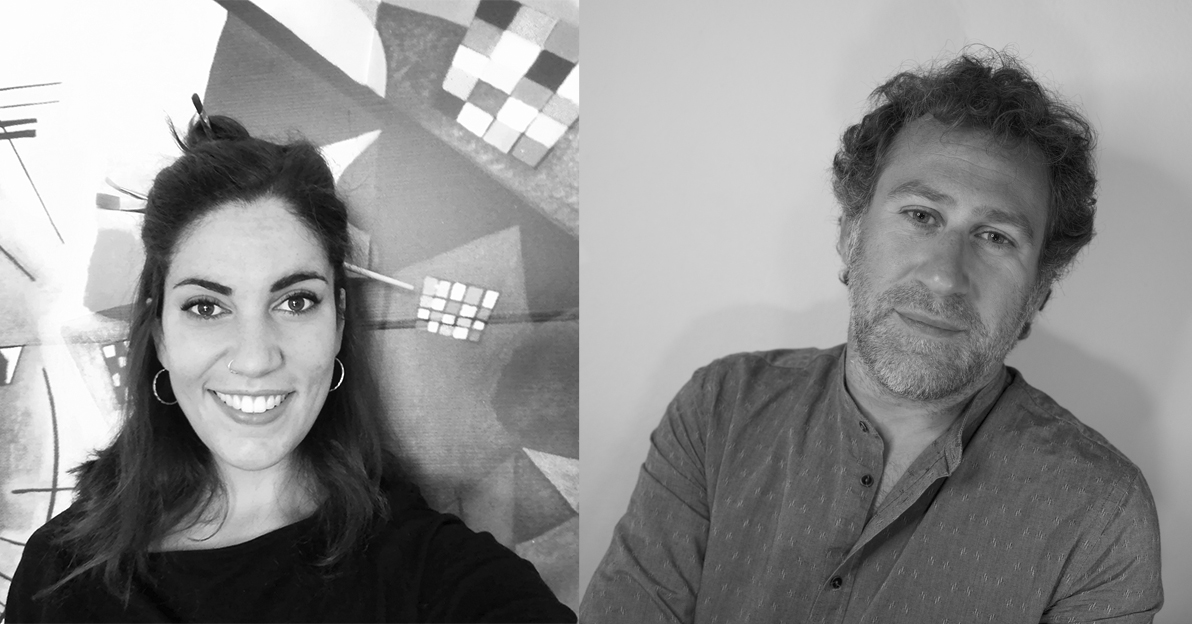 A young farmer cuts the grass in his fields under the sun of an early Spring day. He's not alone: he's surrounded by young gymnasts, training in diverse disciplines similar to mysterious appearances. The camera moves round to record their dribblings, their jumps, their evolutions. In the end, when it goes up in the sky, a revelation. Yes, because among the stems number 110 appears, drawn in the ground like an alien sign.
It looks like the beginning of a disaster movie, actually it's the synopsis of Sportivi in erba ('Sporty people in the grass'), the work thanks to which Sophie Bourkab and Stefano Baù won the prize for the video category of 110 modi di fare SPORT ('110 ways to play SPORT'), the creative contest we launched last Spring on the occasion of FILA's 110th anniversary. On September 24 and 25 they will be featured as guests of Bi-O, enriching the program with top secret interventions. We've tried to get some anticipations with this double interview…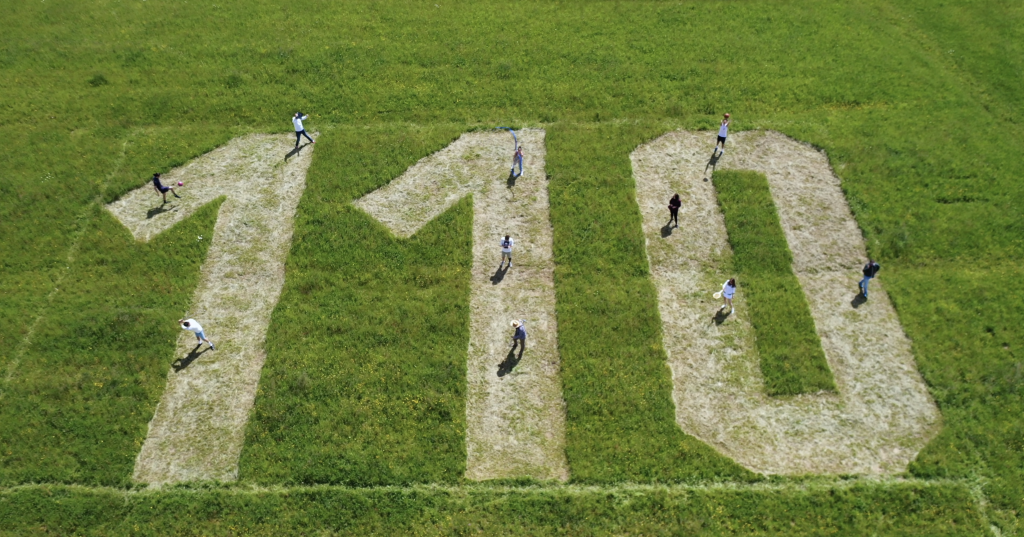 What did you know about FILA before approaching the 110 modi di fare SPORT contest last Spring?
SOPHIE BOURKAB: Being born in Biella, FILA has been present in my daily life since my childhood. I've always linked it to my hometown with pride.
STEFANO BAÙ: FILA is a worldwide famous brand! I had the chance to enter the historic factory in Via Cesare Battisti, Biella, and I met more than one person who got the chance to work there.
How did you feel when you found yourselves winners?
SOPHIE: It felt so good to get to know that our video had been appreciated, especially because we realized it involving many friends – as actors and collaborators: our victory has been shared with all of them.
STEFANO: It was a great satisfaction! The efforts and the commitment to make the video have been huge, both from a creative and a practical point of view we faced more obstacles than what we expected. We worked with a lot of people – friends, acquaintances…seeing that what we did was appreciated filled me with joy. Another moment I absolutely have to recall is the party we made with all the ones who took part in it: to share joy with them really gave sense to it all!
On September 24 and 25 you'll be one of the protagonists of Bi-O, pilot event of Fondazione FILA Museum's program devoted to outdoor fitness in company of the dearest ones. Can you spoil something about what's going to happen?
SOPHIE: I'm planning an Action Painting artistic performance in which participants are going to express themselves through personal gesturality: it will be a collective operation in which everybody will be involved the same way, giving value to cooperation, action and movement, that means the keywords of sport.
STEFANO: I'm helping Sophie in the organization of her performance: I can't tell more, it has to be a surprise for everyone…Furthermore, on September 24 and 25 I'm going to document Bi-O with aerial shootings by using a drone, that will help make a video telling the event to those who won't be able to be there.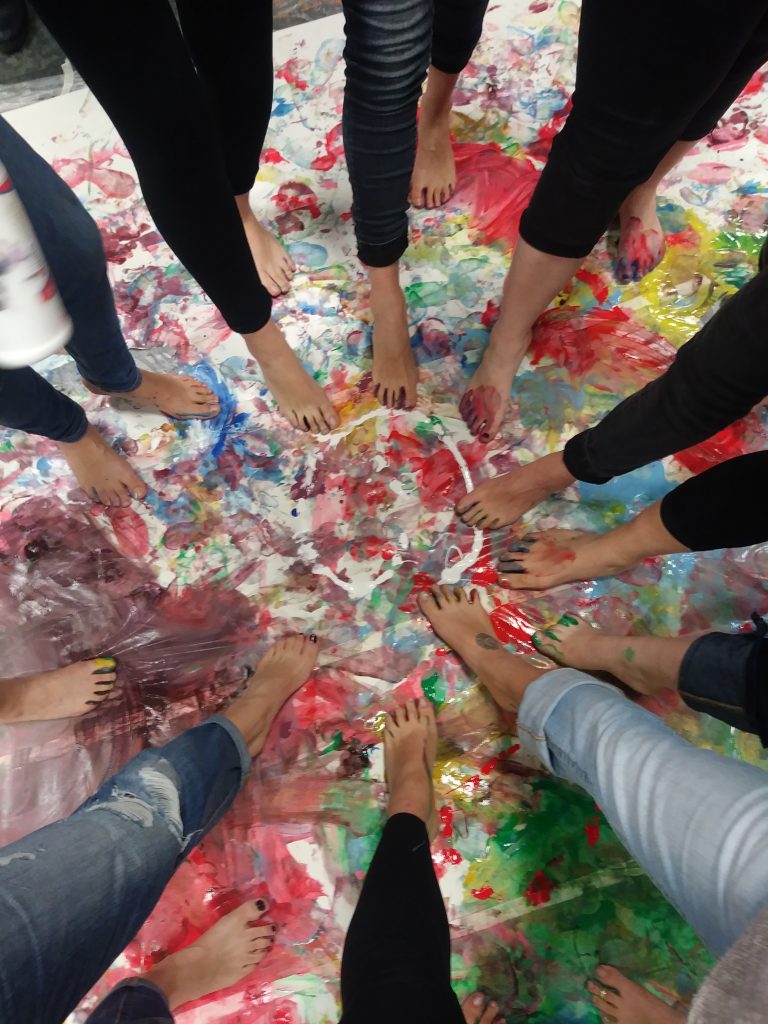 Is creativity a useful tool to face difficult times?
SOPHIE: I firmly believe that art, in any form, is nonverbal expression of our inner being and in this sense it's extremely useful to take out emotions, especially in different times. For these reasons I specialized in Art Therapy, and everyday I witness the potential of artistic expression in the therapeutic field.
STEFANO: STEFANO: In my opinion, it is fundamental: it's not the only one, but it's fundamental! Being able to express creativity gives the opportunity to reveal the inner self: through this, we are able to reinforce it and face the hardest times. It's impossible to avoid links with the delicate one we're living right now.
What would you tell the audience to convince it take part in Bi-O next 24 and 25 September?
SOPHIE: I invite everyone to take part in it because it's going to be both a cultural and a sporty event, in which people's active participation is going to be crucial. Art, music, sport, good food: no competition, just the will to spend some good time outdoor.
STEFANO: You absolutely have to be there! In just two days Bi-O will feature a collective performance and live performances, local culture, outdoor sport, music, fun…and a lot of other things I can't reveal yet!
Leave a Reply
Your feedback is valuable for us. Your email will not be published.