Sources: sales catalogs
Investigating an archive doesn't only mean to understand the story it preserves, but also the dynamics that led to the evolution of the narration itself.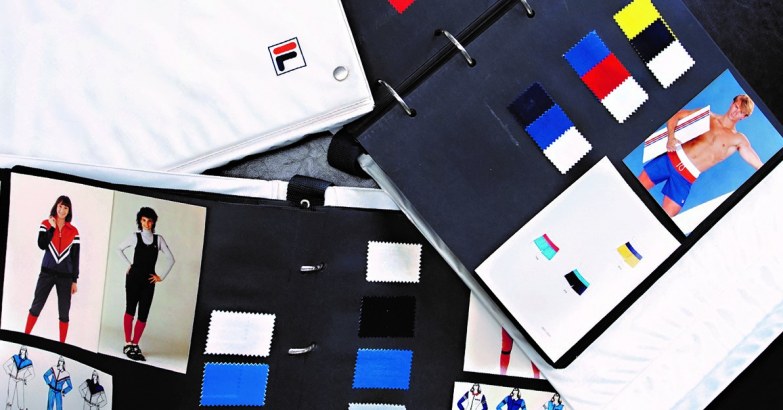 Today, the myth of FILA lives thanks to the most refined digital technologies, but we have to think it isn't always been like this. A specific category of objects from this 'analogic' past caught our attention: sales catalogs. In the era of cloud computing and dematerialization of the object, observing the physical appeal of these huge books similar to encyclopedias is impressive. Ring notebooks keeping together tens and tens of pages, paper sheets with writings, pictures and photographs: apparently a personal diary, they were travel notes actually, easing the knowledge of the brand, also in economic terms.
From Biella, selected FILA employees took the catalogs and visited wholesalers personally, in order to introduce them to the catchiest, most recent collections: it's almost possible to imagine them – in between the Eighties and the Nineties – telling the buyers about the catalogs, inviting them to touch them with their own hands. Right, because a sales catalog isn't only a visual opportunity, but also a sensorial one. Falling in love with an item was easy 'cause it was possible to caress the samples of the fabrics it could be made of.
Anyway, it's the eyes to be involved the most: the collections used to feature several different models, that could be produced in numerous color variants. Thus each page was a painter's palette, offering an infinite choice of looks. What about the models, then? In the era of expansive fashion campaigns and elaborate influencers' poses, the spontaneity of these faces remains unique. Anything but professionals (it was often about colleagues, even relatives), they look at us from every page, witnesses of an epoque that is not going to be back again, yet is still able to inspire creatives and designers.
In which, today as yesterday, we wear FILA clothes. Maybe it's right this awareness to let us leaf through these sales catalogs without being nostalgic or feeling melancholy. On the contrary, it's a warm comfort: the guarantee that – no matter how times may change – style will never leave us alone.