Sources: Biella's chimneys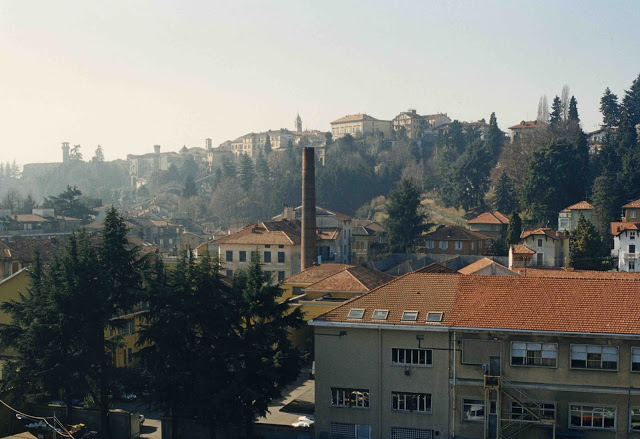 In 1980 writer Giosuè Carducci, the first Italian winner of the Nobel Prize for Literature, wrote a poem that generations of Italian schoolchildren would have later studied and learnt by heart. It's titled Piemonte: a homage to Charles Albert of Savoy, of course, but also to the cities of Piedmont, which are celebrated by evoking their history and the beauty of their natural environment. Biella – mentioned right after Aosta and Ivrea – is described as a green, industrious city, that 'a "a l'opera fumanti camini ostenta" (showing smoky chimneys). Such 'chimneys' are the smokestacks of the textile factories, characterizing the urban skyline since the end of the 19th century.
The history of smokestacks began in the English Victorian era, whose industrial improvement was marked, from an aesthetic point of view, by towers inspired by gothic and Italian Renaissance campaniles. This taste became common in the continental area as well, settling in those areas whose industries were giving up on water, endorsing the use of coal. The diffusion of smokestacks went along with an architectural evolution that found eminent protagonists in Italy – above all, Alessandro Antonelli, who developed the project for the Turinese Mole in 1862. Thanks to the discovery of new bricks and binders, innovative double structures were born: the external cylindrical framework always presented an internal blunt cone in order to provide the best forced draught. This also implied construction complexities: a single, specialized worker had to deal with them, by moving up one meter a day in order to accomplish the brickwork. Such work considered an aesthetic curatorship at last, that after the spread of Art Nouveau (Liberty style in Italy) led to the creation of decorations and effigies on the top, as if it was a classical column.
Smokestacks have characterized the environment of Biella since the very beginning, becoming a real symbol: in vintage postcards chimneys were permanently active, and if smoke did not appear in the picture it was drawn at a second moment. Only eighty of the hundreds of structures built between the end of the 19th century and the Second World War survive, and their conservation is a thorny matter. If not active, the tower suffers cold and humidity, risking to break up. Furthermore, in order to last through the years, it has to be shortened, with the consequent losing of appeal. Thankfully, in recent times the restoration of chimneys has been discussed by industrial archaeology experts, who have recognized in their standing beauty a symbol of territorial relevance. And even if it has been shortened, the one of the FILA factory located in Via Cesare Battisti, Biella, still dominates, reminding of the working origins of a global success.