Sound On: Gorillaz
Cool Britannia: this is the term used by mass media specialists to identify that specific mid-90s moment in which a new wave of visual artists, music stars and celebrities made UK's style and culture worldwide relevant, twenty years after the excesses of punk.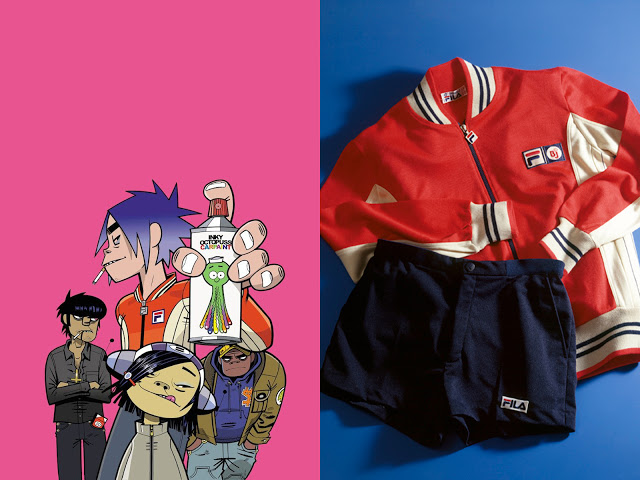 Talking about music, the challenge for the throne of rock'n'roll is between Oasis – the band founded by Liam and Noel Gallagher, Beatles-obsessed and quarrelsome brothers – and Blur, an irriverent band from London with a peculiar attention for dance sounds. Blur's frontman, Damon Albarn, doesn't enjoy the competition (and tabloids headlines either): the only way to get away from that is to give life to a brand new, radical project. Actually Gorillaz, the band he founded in 2000, do not exist! 2D (voice), Murdoc (bass), Noodle (guitar) and Russel (drums) are cartoons drawn by Jamie Hewlett, Albarn's flatmate and creator of Tank Girl, crucial comic book for British post-punk culture. In the Spring of 2001 Gorillaz are No. 1 with the irresistible refrain of Clint Eastwood, their debut single selling six million copies in the world. Finally free from the threat of the Nineties, Albarn creates a surprisingly creative project, both from a musical – the sound of Gorillaz is pop and rock, dance and funk, rap and gospel – and visual point of view, with music videos that are short films inspired by the best post-apocalyptic imaginary.
Gorillaz are dirty, rude, sometimes even pulp, but the real world is crazy about them. Jack Black plays the guitar in their Humility video, hired assassin Bruce Willis tries to shoot them up in Stylo, and Madonna asked Noodle to play the guitar for her Hung Up intro at the 2006 Grammy Awards. Both aesthetic and visual culture play a fundamental role in the band's success, and Damon Albarn has always been very focused on these aspects (the cover of Blur's Greatest Hits, created by Julian Opie in 2000, is now part of the permanent collection of the National Portrait Gallery in London). That's why frontman 2D wears a FILA jumper in a notorious promotional shoot, istantly recalling Björn Borg's feats at Wimbledon at the end of the Seventies. Thanks to its flamboyant colors and its comfortable, sinuous lines, our Brand's attitude suits rockstars indeed. No matter how real they can be.