Sculpture in the expanded FILA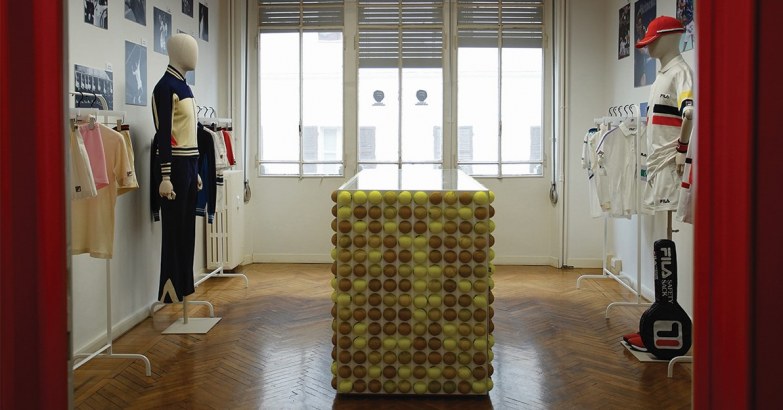 Few people know that the motto 'Less is more', commonly referred to Mies van der Rohe, was actually invented by another genius of 20th century's architecture, Peter Behrens, under whose tutelage Walter Gropius and Le Corbusier were also guided. Anyway, we accept it as a quote by van der Rohe, who wasn't only one of the advocates of architectural Modernism, but also the creator of building and design objects telling us that the ultimate meaning of a structure is not about magnificence, but about a process of subtraction instead. That leads towards the most essential and functional elements.
Even if in a latent way, such approach has inspired the new display of our Biellese museum, that recently reopened to visitors: on the occasion of FILA's 110th anniversary, we organized a nenewed setup, that finds in minimalism one of its strong points. If the first interactive, historic rooms remain unchanged, the other eight rooms structuring the path transform. Without distractions, the environment is reconfigured as an airy one, able to interact with people and the light filtering from the pointed arch windows.
The new look of the WHITE LINE room, for example, allows to admire few, selected pieces, that witness the Foundation's most recent activities (the 'penguin tracksuit' designed by Pierluigi Rolando in 1972 is a result of the success of ACHIEVE the ARCHIVE). WHITE ROCK, the space leading us to the highest peaks, is renewed too: around the shrine preserving the 'Tela Vela' jacket every wall displays pivotal items as turtlenecks, equippings and snow suits, worn by giants like Reinhold Messner or Ingemar Stenmark. On the opposite side, with the support of a kaleidoscopic set, it's all about the colors of ski suits, taking us back to the glorious years of Ski Team Italia.
The following rooms, even if smaller, aren't less catchy. On the contrary, in the immersive space devoted to the AQUA TIME line and to the universe of swimming pools, Giovanni Soldini's sailing suit shines even more, as a jewel in the dark. After few steps, Germán Silva, Gabriel Batistuta, Diego Armando Maradona (the signed t-shirt is another achievement of our archival contest) and their feats are evoked by the appeal of selected, well-curated memorabilia.
A final fashion highlight could not be missing. The One World Room explains the Brand's new course, based on licenses and collaborations leading to surprising collections: the elegance of FENDI's dresses, the strength of Russian designer and photographer Gosha Rubchinskij, the purity of Katie Grand's vision. A story that ends in the final room, One FILA, focused on the post – Milano Fashion Week evolutions. Here, the entire path finds real sense: by observing how the different elements of the tradition, whether WHITE LINE patterns or ski equipping, turn into catwalk presences, we understand the everchanging destiny of this centennial story.
Discover the whole story, reserve a safe visit: more infos here.