Brotherhood
By observing the photographs portraying brothers Phil and Steve Mahre together, one thing is clear: they're always together. Whether it be on the podium or slalom skiing, they always find their way to express closeness, proximity, tenderness.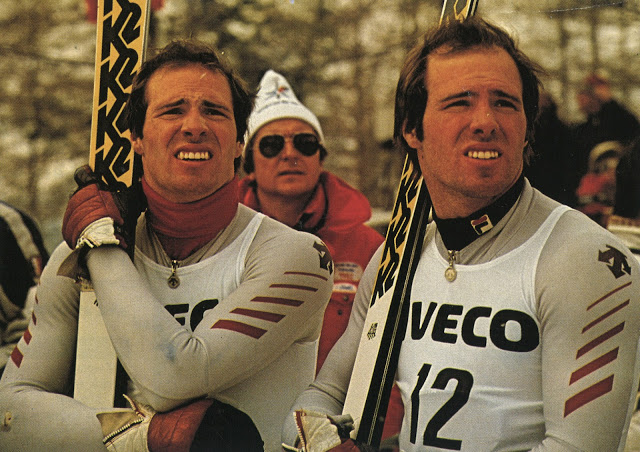 Twin brothers, the Mahres were born in Yakima, Washington State, on May 10th, 1957: Phil is four minutes younger, as he says in every interview. They were raised in a very large family, with other seven siblings, and they are the perfect incarnation of a certain American Dream: solid family values, determination in pursuing goals.
Skiers, they have known success indeed. Especially Steve: between 1976 and 1984 he gained 27 world victories, and the World Cup in 1982. Steve, for his part, has one Olympic medal, a silver, and nine World Cup victories. They find themselves together also in defeats, including the most bitter one: on January 16th, 1983, in Parpan, Steve's victory is set aside because of a wrong exchange of bibs with his twin, an act which was considered fraudulent by the jury, even despite of the competitors' friendly witnesses. Their delusion – along with a defamatory press campaign – causes a premature retirement for the both of them, after the 1984 Winter Olympic Games of Sarajevo: they were just 21 years old. Anyway, it is not a sad goodbye. "A lot of athletes struggle with retirement", Phil says. "I couldn't have cared less. I could have walked away from skiing anytime I wanted and it wouldn't have bothered me one way or the other because it didn't define me". In fact, they reinvent themselves as coaches, with a training centre in Park City, Utah.
United all the time, together all the time.