Forty years later
On the entrance doors of Centre Court, Wimbledon, you can find a writing quoting a verse from If (1895), superb poem by Joseph Rudyard Kipling. It says 'If you can meet with Triumph and Disaster / And treat those two impostors just the same', teaching us that inner peace is more important than any win or loss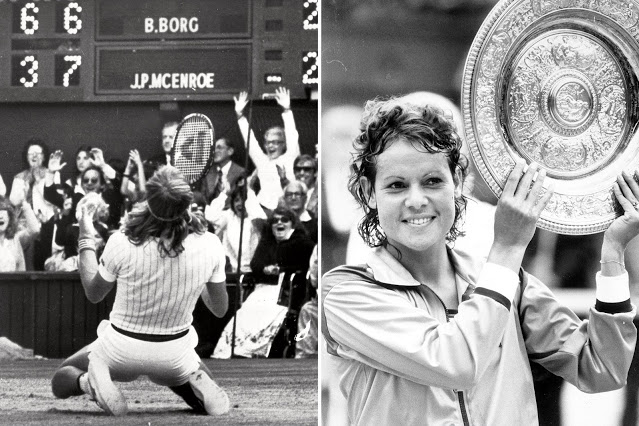 Who knows if on July 5th, 1980, before getting on the tennis court, Björn Borg and John McEnroe read it, even in passing, or their concentration couldn't make room for distractions. Forty years after the tournament's final, its epic strength is still vivid in the fans' memory. Borg, the Swedish one, was the king: back from four consecutive victories right at Wimbledon, he had invented a personal way to play from the baseline, with his stoic concentration leaving everyone speechless. McEnroe, from the U.S., was the rising star, with his powerful, left-handed serve and that rebel attitude tabloids loved so much.
Wimbledon 1980 remains unforgettable because for almost four hours no one is able to predict how the match is going to end. The first set is characterized by numerous mistakes by Borg, who's overwhelmed by McEnroe's top form. But the American player does not remember that his Swedish rival needs time to get started. Borg wins the second and the third set indeed, taking out all the grit distinguishing him. Set n. 4 is maybe the most compelling one. Apparently dominated by Borg, it finds its real protagonist in McEnroe, who suddenly pulls off some furious shots. The final set, the fifth one, is a twenty-two minutes long match in the match, that ends up with Borg taking the lead again: thanks to a backhand, he wipes out some weak volées by McEnroe. He's the final winner.
We cannot hear Björn screaming with joy, the exultant crowd is out of control. But we know we just witnessed a great moment in sport. A lesson. Something whose force is recognized by the American adversary too. 'I cannot say I had a Borg poster in my bedroom, but he surely gave me the encouragement I needed to approach tennis in a proper way'.
As Björn Borg, Australian player (and winner of the female Great Slam in single) Evonne Goolagong wears FILA as well. Queen of Wimbledon in 1971, Evonne is back to London after her first pregnancy, despite of bookmakers' disappointment. But her destiny is to win against Chris Evert: after a hesitant second set, Goolagong reigns on the whole final, becoming the first mum in history to win after Margaret Court.
At Wimbledon 1980, FILA is on the top of the world. But the real winner of that edition is sport, real sport, the one that still has something to say forty years later.