FILA goes to Hollywood: The Firm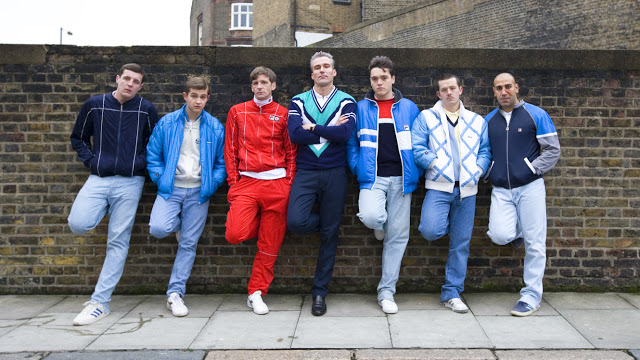 Movies about English working class' anger are many and valuable: just think of Master Ken Loach's entire filmography. Not mention the verve of Full Monty by Peter Cattaneo (1997), the grace of Billy Elliott by Stephen Daldry (2000) and that surprising gem named Pride, directed by Matthew Warchus in 2014. Today we want to talk about social frustration turning into violence, finding legitimation in clothing and fashion looks.
It's The Firm by Nick Love (2009), film telling of the uncontrolled fights between bands of hooligans. Released exclusively in the UK, it's the remake of Alan Clarke's homonymous motion picture, which debuted in 1989. Both movies are focused on the phenomenon of the so-called casuals, the organized groups of hooligans that originated form the skinheads and hard mods waves. In this sense, if Clarke's vision is 'bourgeois' (the leading character, interpreted by Gary Oldman, ofter wears elegant shirts and jackets), Love's more recent one explores the aesthetic matter in a deeper way. In order to offer the viewer the most realistic experience, the director has been researching the historical outfits by the sportswear brands marking that era. Obviously FILA couldn't be missing, and contributed with extremely colorful outfits, that liven up a film photography which is very different from the original one.
The events of The Firm refer to the the character of Don (Calum MacNab) and his fascination for Bex (Paul Anderson), leader of West Ham's official firm. In a very short time, Bex drags Dom into a dangerous spiral, in which supporting a team turns into uncontrolled violence, poured out at the end of football matches. Since being in a firm also means to submit to precise fashion standards, Dom will also find himself changing his look radically.
We don't like spoilers, so we're not going to tell you how the movie ends: what we invite you to do is to look carefully at the looks in the film, with a particular attention for the Terrinda jackets worn by Dom. Launched onto the market FILA in 1981, Terrinda is unique for its flamboyant monochrome tones, broken in the upper part by thin geometrical lines. A real cult for teenagers in the Eighties, who went mad for it after seeing George Michael of Wham! wearing it. After watching The Firm – we're sure about it – you won't be able to live without it either.